~ * ~

A selection of items from various

government asset liquidation sites

~ * ~
20th Century Art -
Animal Applique, Cotton Textile
Starting bid $15.00

Seller: City of San Diego, CA
Pair of Gothic Revival
Leather Chairs
Current bid $6,000.00

Location: Tulsa, OK
Mckissick 230# Headache Ball
Starting bid $250.00

Seller: Savannah River Site Community Reuse Organization, SC
Gems and Glass Paperweight

Current bid $50.00  

Seller: West Linn Police Department, OR
100' Galvanized Metal Fire Tower
Current bid $100.00
USED - LIQUIDATION SALE!
Seller: State of Alabama, Surplus Property Division, AL
Assorted Cutlery (60 lbs.)
Current bid $164.00
Location: Denver, CO
Curtains (heavy)
Starting bid $5.00

Seller: Temple, TX  
Freestanding Gothic Pulpit
Current bid $400.00

  "19th to early 20th century, quarter sawn oak freestanding pulpit with attached stairs and hand rail, six paneled pulpit, top ogee over reverse ogee edge, top frieze with carved meandering vine and leaf all over panels with gothic arch window with tracery and central quatrefoil, carved corner spandrels with rosette and foliate, atop a base with three repeating carved quatrefoils, all raised on a pedestal base, with side entry stair case with banister and block and turned post. Condition: Very good."

Location: Tulsa, OK
Holiday Pole Decorations-
16 Strands of Garland
Starting bid $100.00

Seller: Waukee, IA
Steinway and Sons Grand Piano
Current bid $17,250.00
Location: Carson, CA
Holiday banners
Starting bid $12.00
 
Seller: Kilmarnock, VA
1976 Chevrolet Corvette Stingray
Current bid $1,810.00

Seller: Knox County Sheriff's Office, TN
Three (3) Used Deer Decoys

Current bid $30.00

"Each may have dings, scratches and paint missing; one has writing on side. Legs, head & neck all come off of body and are stored inside body cavity when not put together and/or being used."

Seller: Forest Preserve District of DuPage County, IL
Aubusson Style Tapestry
19th Century
Current bid $400.00

Location: Tulsa, OK
Lot of (46) Beach Chairs
Current bid $141.85
Seller: Florida International University
1979 Chevrolet Camaro Sports Coupe V8
Current bid $2,520.00

Seller: 19th Judicial District Drug Task Force, Clarksville, TN
Crowns with Colored Stones
Current bid $875.00

Location: Tulsa, OK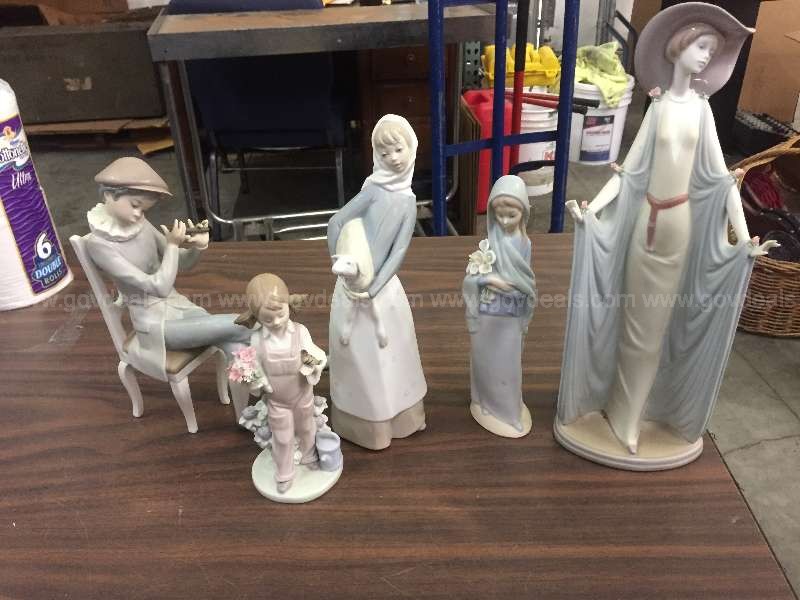 Lladro's figurines,
other misc. collectibles
Current bid $45.00
Seller: Santa Clara County, CA
Old Covered Wagon

Current bid $100.00
"It is not operable and the cover has deteriorated."

Seller: State of Arkansas
Gothic Revival Sofa w/ Tapestry
Current bid $600.00
"Flemish Baroque in style, walnut scroll and shell crest rail, tapestry backrest and arms, three box cushion seats, nail head trim. Backrest and arm tapestry with a rust ground, repeating floral stems with a variety of flowering blossoms and a central pictorial scene representing the 'Lady & the Unicorn, Sound' from the series of tapestries depicting the five senses that hang in the Mousee National du Moyen Age (aka Cluny Museum) in Paris. Image is of two females in Medieval dress, flanked, one by a griffin with standard, and the other with a white unicorn with standard, both women playing music (perhaps from a table harp), three box seat cushions with blue ground, and central leafed tree over a multi-colored ground with blooms. Acanthus leaf armrest and support terminate in a rosette, front apron with three repeating crest rail pattern segments, turned stretchers, eight turned and block legs on bun feet. Exterior side and back fabric is solid in color, stained and faded, nail head trim."

Location: Tulsa, OK
1 lot of assorted earrings
Current bid $20.00
Seller: Madison County Sheriff Department, AL
Gadsden Federal Building
Current bid $100,000.00

Location: Gadsden, AL
Concrete Urns
Starting bid $10.00

"These urns are 14 years old, some have imperfections, chips and cracks."

Seller: Hardin County Commissioners, OH
Collectibles
Starting bid $50.00
"Old bottles, harmonica, plates, spools, blood pressure kit, binoculars, coin purse, and small items."
Seller: West Linn Police Department, OR
Easter decorations
Starting bid $20.00

"Lot of Easter decorations and a bunny costume, costume doesn't have a size listed I am guessing small to medium."

Seller: Pickerington, OH
Large Lot of Playground Equipment

Current bid $330.00
Seller: San Benito Consolidated ISD-General, TX
One Pair of Concrete Gargoyles

Current bid $1,200.00

Location: Tulsa, OK
Playground Snail
Current bid $25.00

Seller: Afton, IA
Pair of Louis LXV Settees
Current bid $250.00
  Location: Tulsa, OK
Pink Legal Size Paper
Current bid $10.00

"This lot consist of 500 reams of 8 1/2 x 14 legal size pink paper."
Location: Lees Summit, MO
Six (6) Multi-Light Torchiere Floor Lamps
Current bid $21.00
Seller: Maryland Heights, MO